Photo Hannie Wijers:
relative high dirty whitish baldy egg

Photo Hannie Wijers:
the egg becomes jelly transparant


Devil's Fingers
(Trans. from Dutch Squid fungus)
(Clathrus archeri)
NMV Ga 200010

Hansen & Knudson (1997): 3-5 cm high dirty whitish egg, irregulary breaking at the apex.
A red column grows up in a few hours, consisting of 3-8 arms connected above, then splitting and recurving into a star-shaped pattern. Each arm 5-13 cm long and 1-2 cm broad, carmine to purplish red, spongy and fragile. Sp-mass dark olivaceous.
Smell very strong and unpleasant, of carrions.
In Denmark found in 1989 in an open beech forest, along a path
In Denmark Clathrus archeri is called Blækspruttesvamp, "black slush fungus", in the Netherlands it is called Inktviszwam, "Squid fungus".
Hansen & Knudson were not the first publishers. Vesterholt & Sørensen in 1989 published this in Svampe.

The British Mycologists Society (BMS, 2010) in its "Proposed English names June 2010" suggest Devil's Fingers to be the common name for British writing.
Photo Hannie Wijers: the bundled arms breaking through the egg's apex

Photo Hannie Wijers: then splitting and recurving into a star-shaped pattern ...

Vermeulen (1999) describes another observation than the others do (Hansen en Knudson (1997), Gerhardt (1999, 2006)):
The fungus has 4-6 red, lancet-shaped (tapered) arms, each 4-7 cm long, on a short white stem. It is developed from a witches egg.

Origin: Australia.

In 1918 Devil's Fingers is found in northeast France near a militairy basis. Probably it came together with military goods in World War I, or by woolimport from Australia.
Krieglsteiner in 1992 described the distribution of Devil's Fingers through NW-Europe (source Vellinga & Kuyper, 2012).

Gerhardt (2006) gives different measures than the two other sources.
Fruit-body 10-15 cm broad with 4-5 clear red recurved arms, at first covered with dark slimy spore-mass with a strong carrions smell.
The witches egg is grey-white to pale grey-brown, 2-4 cm broad, with a baldy exoperidium.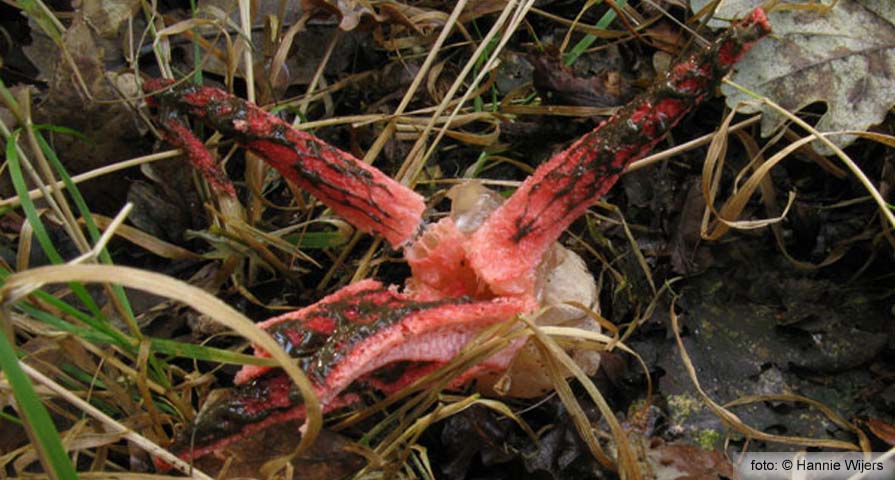 Photo Hannie Wijers:
On the recurving arms the dark slimy spore-mass is visible
notice: the arms are spongy, hollow, and tapered.
notice: there is no visible white stem, the fungus still is standing in the egg-shell

All these different measures are not to the point, the number of arms is variable, the size of the egg is variable. Smell and color are more important. Or, like observer Helmoet Vos declared "I really don't know if I could smell it. I should have to. I only thought about some other awfull plastic rubbish laying in the forest."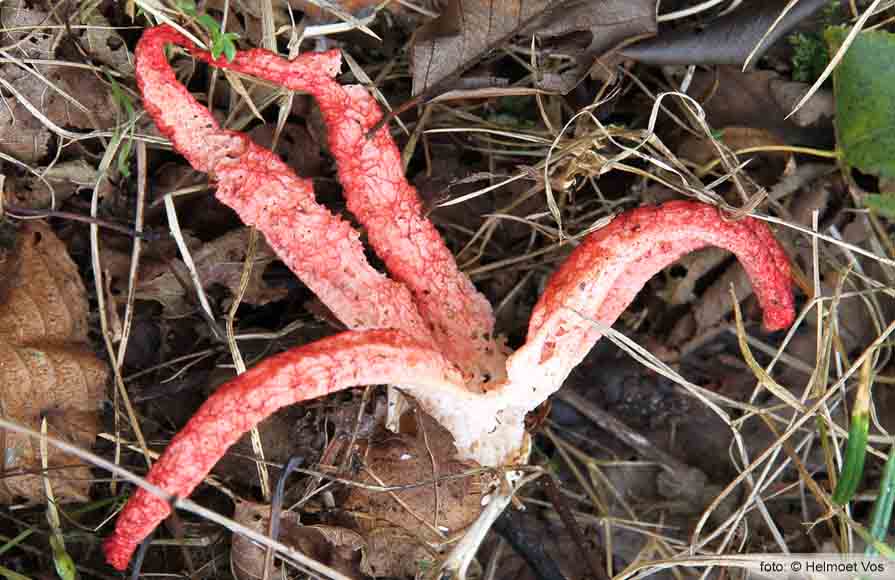 Photo Helmoet Vos:
growing older the fungus is loosing the dark slimy spore-mass, and the smell becomes less penetrant
notice: the egg-shell is vanishing, and now the fungus indeed has a short white stem ...

Habitat:
Deciduous forests, parks, road-sides, on humous, fertile soil, mouldered wood or shredded wood, oak (quercus) and beech (fagus).
Recently, observers also report fungi on grintstone, under oak coppice, and on run (shredded oak wood).
July till October.

Regional:
Earlier reports in the Netherlands were from south of the rivers, the alluvial sandgrounds, in the east (Achterhoek) and the middle (Veluwe) in the pleistocene area, and later also in the whole dunal coast (Zeeuws-Vlaanderen to Texel).
In Het Gooi the fungus was found a couple of years ago in a road-side at one of the borders of the pleistocene area.
Strangely, there are until now hardly any observations in the urban area and in the wetter peatlands. It is still unclear if it means that this fungus does not like wet areas or that this fungus does not like the trees (or wood) from these wet areas.

Literature:
BMS (2010), Proposed English names June 2010
Ewald Gerhardt, De grote Paddenstoelengids(voor onderweg), Tirion natuur, 2006, p. 620-621.
Hansen,L.& K. Knudsen (1997), Nordic Macromycetes, Kopenhagen, Vol 3, p. 175
Vellinga, E.C. & Th. W. Kuyper (2012), Exotic ectomycorrhizal fungi, Coolia 55(2), 55-64.
Hans Vermeulen, Paddestoelen, Schimmels en Slijmzwammen van Vlaanderen (determinatiesleutels aan de hand van kenmerken), De Wielewaal, Turnhout, 1999, p. 535