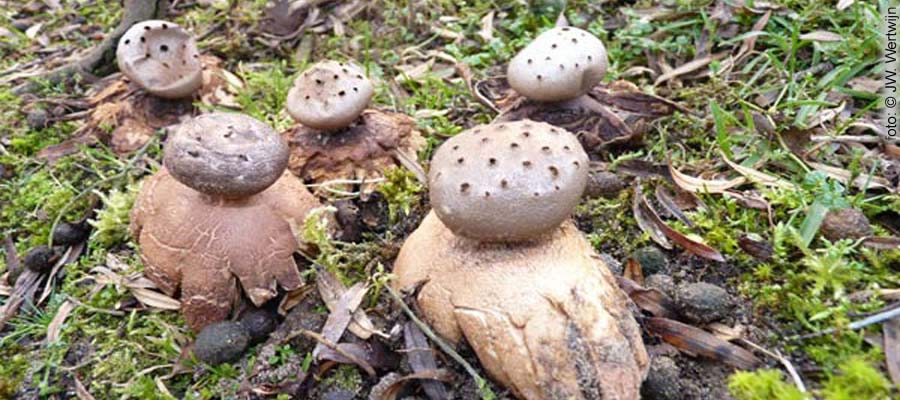 Photo: Meijendel, January 7 2012

Pepper Pot
(Myriostoma coliforme)
MisApp.: Geastrum coliforme
NMV Ga 222010

Field-marks: See: Anatomy Genus Geastrum

Pepper Pot field-marks:
Balloon:
often flattened globose, sometimes top-shaped
no plicates, no apophyse
young: grainy light grey, sometimes with light elevated circles, bit older sometimes with some holes
older: light grey, sometimes brownish grey, often with a silverish gloom, many holes
many columella's, sometimes combined
Stem:
young: invisible; stem becomes visible after disappearance of the meaty layer of the star-rays
ouder: visible, broad, thick, ribbed, combination of stems
stem upto 5 mm, usually short, broad, ribbed
Star-rays:
Star-rays number: 6-12, non-hygroscopic
Star-rays shape: convex (sometimes fornicate), meaty layer (young, temporary).
Star-rays color: first white then yellow to brown, in the end blackish.
Star-rays encrusted debris: no.
Star-rays scar: yes.
Star-rays bottom color: yellowish to brown

Growth disturbances: old Pepper Pots might havw a fissure instead of holes; after drying the stem becomes visible: broad ribbed or combinated stems
| | | |
| --- | --- | --- |
| Photo's: Meijendel, January 7 2012 | | |
old Pepper Pot has clear scar

Standing-place calcareous dunes, in the shadow or near the tree-stem,
below Hawthorn and Sea Buckthorn ...

Habitat:
Pepper Pot is a dunal earthstar of calacreous dunes, in the shadow or near the tree-stem (so in general east of the tree)
Pepper Pot almost always is found at a dry slope, under Hawthorn, or Common Spindle tree. That are places with a this layer of litter, and with a poor vegetation of glechoma and urtica.
At three places I have found about 20 Pepper Pots and a few Crowned Earthstars together.

Wood species:
Black Elder, Common Spindle Tree, Hawthorn, and Ligustrum.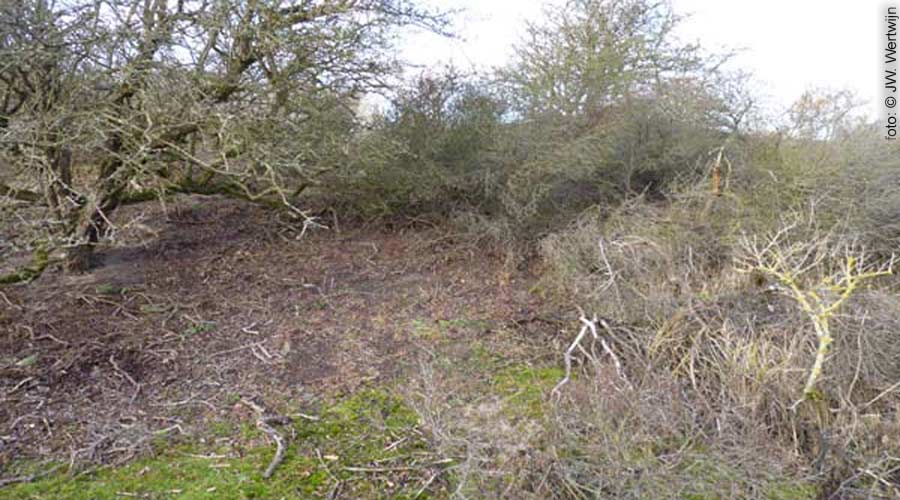 Habitat Pepper Pot: Meijendel, January 7 2012

Mistakability:
Pepper Pot is not mistakable if the holes are opened.

Doubt is possible if the balloon is flattened globose and there is one fissure instead of multiple holes. The stem under the balloon is then the important field-mark.

If there is even no fissure, mistakability with Striate Earthstar is possible. Then you need to dry one at about 50 degrees Celsius for a very long time. After drying the stem is visible. Striate Earthstar, Beaked Earthstar and Crowned Earthstaralso show their mouth-zone better after drying.

My drying instrument is a plate on my pizza-ofen, lowest stand, and opening the door a little.

Young Pepper Pots still without holes often have elevated circles at the places the holes with come.
Demolishers and Dryers: the columella's (and so the stems) are crucial for Pepper Pots.
But be aware: Pepper Pot is on the red list, very rare, you do not need to prove it.
Literature:
Chrispijn, R. ed. (1999), Champignons in de Jordaan (De paddenstoelen van Amsterdam), Schuyt en Co, 162-163.
Gerhardt (2006), De grote Paddenstoelen Gids (voor onderweg), Tirion Natuur, 616.
Hansen, L & K. Knudsen (1997), Nordic Macromycetes, Kopenhagen, Vol 3, 345.
Jalink (1995), De aardsterren van Nederland en België, Coolia 38 supplement, 59-60.
Pegler, e.o. (1995), British puffballs, earthstars and stinkhorns, an account of the british gasteroid fungi, Royal Botanic Gardens, kew, 1995, 255 pp.
Vermeulen (1999), Paddestoelen, Schimmels en Slijmzwammen van Vlaanderen, Wielewaal, Turnhout, 541.